A Harris Family History Collection
Tracing the Harris Line from Kent County, England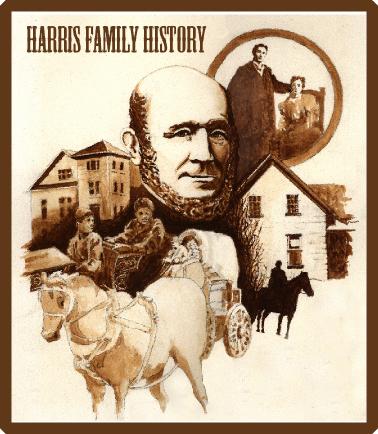 From Northbourne, Kent, my early ancestor Thomas Harris and his brother William journeyed by pilgrim ship (c.1635) landing in Massachusettes Bay eager to start a new life. Later joined by his siblings and widowed mother they gathered with Roger Williams helping to settle Providence Plantation, now Rhode Island.
From there a rich history unfolds of generations caught up in the formation of a new country, seeking to be free from oppressive traditions in England and an old world. Generations of Harrises followed, participants in building a new nation, with big dreams. Some Harris decendents migrated westward to thefar reaches of the western frontiers, New York, Ohio, Illinois and then onward to Utah, Idaho and California, all have been homes to my direct Harris line.
This Harris family ancestry records date back to the early 1500s in Staplehurst, Kent, England. Over 435 years and 13 generations of family history are known.
This collection also focuses on Nathan Harris (great grandson of Thomas Harris) and his wife Rhoda Lapham, whose family migrated to Palmyra, NY in 1793 . Many of their children and decendants joined the Mormon Migration westward to Utah in the mid 1850s.

Thomas Harris Signature