Christened: 09 DEC 1610 Northbourne, Kent, England (1)
William Harris was apprenticed through the Drapers' Company in London and lived as a needle maker in Eastcheap, London. (9)
William though born in Northbourne, Kent was apprenticed in London to Thomas Wilson for 7 years beginning 22 October 1628. William was 18 at the time he began this apprenticeship (12 years after the death of his father). William's 7 years contract ended in October of 1635, but he did not take up the Freedom of the Company on completing his apprenticeship and no other information relating to him appears in the Company's archive. (Freedom of the Company means freedom to practice his qualified trade within the rules of the Draper's company. These type of companies controlled the practice of many trades. No-one could operate outside their jurisdiction in the areas they controlled.)
As an apprentice needle maker living with Thomas Wilson in Eastcheap, London, (10) it would certainly seem probable that William met Susannah Hyde whose father John Hyde became a Freeman on 30 July 1595, as a taylor in Aldermanbury having been bound as apprentice to Henry Richardson. All were part of the Drapers' Company. John was a citizen and draper in London and was married second to Mary Bonfoy 9 May 1605 and had several children including Susannah Hyde (bap. 20 Mar 1609/0, St Mary Aldermanbury, London).(12)
William's older sister Parnel may have lived with him or close friends or relatives in Bow, London around 1635 (13)
Map Location of St Mary Aldermanbury Parish Church (destroyed in WWII)
William marred Susannah (Susan) after May 1626 (when she was called "Susan Hyde" in the London will of Thomas Olcott) (2) and before about 1635 with the birth of their son Andrew (11). William and Susannah migrated to New England and perhaps first as an inhabitant of Salem during 1635 where they first met Roger Williams who was pastor at the Salem Church (4). No specific information is found on their migration as many as half the ships passenger lists arriving 1630s are lost. William Harris arrived in Salem by 1635 as he made aquaintance of Roger Williams and identify with his specific beliefs. (3) By the fall of 1635, support for Williams began to wane under this pressure from the authorities, and he withdrew from the Salem Church and began meeting with a few of his most devoted followers in his home. Likely the plans to aid Roger Williams in his "escape" from Salem was organized. Williams left Salem early January 1636. (14)
From letter of Roger Williams describing the event: "driven from my house, and land and wife and children, in the midst of a New England winter,...at Salem...I steered my course...though in winter snow, which I feel yet, unto these parts... It is not true that I was employed by any, made covenant with any, or desired any to come with me...My soul's desire was to do the natives good, and to that end have their language...and therefore desired not to be troubled with English company, yet out of Pity, I gave leave to W. Harris, then poor and destitute, to come along in my company, I consented to John Smith, Miller, at Dorchester (bashished also) to go with me, and at John Smith's desire, to a poor young fellow, Francis Wicks, as also to a lad of Richard Watermans." (To these must be added the name of Joshua Verin, making six in all. (16)
William Harris was among six who accompanied Roger Williams beyond the boundaries of the MA Bay Colony to Providence, an area secured by verbal transfer from the Narragansett Indians in the year 1636. (5)
After years of differences in approach to the newly aquired lands and matters of religion and governance, Roger Williams and William Harris became enemies. "as to W. Harris, you deeply disstressed by your adding gall to our (mine own above) forty years vinegar in countenancing that prodigy of pride and scorning W. Harris, who, being an impudent morris-dancer in Kent, under the cloak of (scurrilous) jests against the bishop, got into a flight to New England, and, under a cloak of separation, got in with myself, till his self-ends and restless strife, and at last his atheistical denying of heaven and hell, made honest souls to fly from him? Now he courts the Baptists; then he kicks them off and flatters the Foxians; then the drunkards (which he calls all that are not of the former two amongst us); then knowing the prejudices of the other Colonies against us, he dares to abuse his Majesty and Council, to bring New England upon us; and when your nobel self discerned and disowned his old and only monstrous song, Hoc est Corpus Meum (up streams without limits,) how hath he run about the world again to force my conscience to give him more up Wanasquatucket than the bounds so punctially set us by the Sachems in our grand deed. It is not questionable, is that, if he be not satisfied with his poor bone he hath so long fancied, he will stamp on yourself, and his Majesty and Council too, and make Rome, if he can (bloody Rome), his sanctuary; for he saith he can go to Mass: yea (flectere si nequeam, &c.), he will go down to devils and witches; for he saith he can go to the witch of Endor for a piece of bread. I am not sensible of his long thirsting after my blood. I humbly pray the blessed Lord to return him or rebuke him, and to deliver my soul and yours from all our disstresses." (17) Roger Williams statement do indicate the reason William Harris left England was due to seperatist behavior and being attacked by William Laud to avoid further prosecutions made his way to New England. Records show William along with his broteher Thomas and sister Jane were listed as members of the dissendent church lead by John Lothrop who met Southwark, just across the Thames from London.
He later founded Cranston, R.I. There were problems about these settlements and William had to make several trips to London.
There is an abundance of records available for William and his dealings in New England and several trips he made to London. William's will was dated Dec. 4, 1678 and proved Feb. 15, 1681/2 in Providence, Rhode Island. In 1680 Harris was kidnapped and held for ransom by Algerian pirates. William died in London after being released from capture. After the ransom was paid he traveled to London and died at this address: John Stoke's place at 'the sign of the peele' (Baker) in Wentworth Street near Spittle fields in London.
Harris was in North America before John Stokes was born but there was some link between William Harris and John Stokes, a Quaker living in London, perhaps with John's father Henry, a baker (6)
When William was held for ransom, he wrote to his wife, telling her, concerning some papers "I prey they may be sent to 'the signe of the peele' in wentworth street neere spittle fields in London to John Stokes, living there, to remain there for me." The Sign of the Peele refers to the wooden tool used by baker's to remove goods from the oven. John Stokes, who was also a baker, wrote a letter to Howlong Harris, daughter of William, telling her of her father's capture.
For more detail on William Harris see Wikipedia Link (15)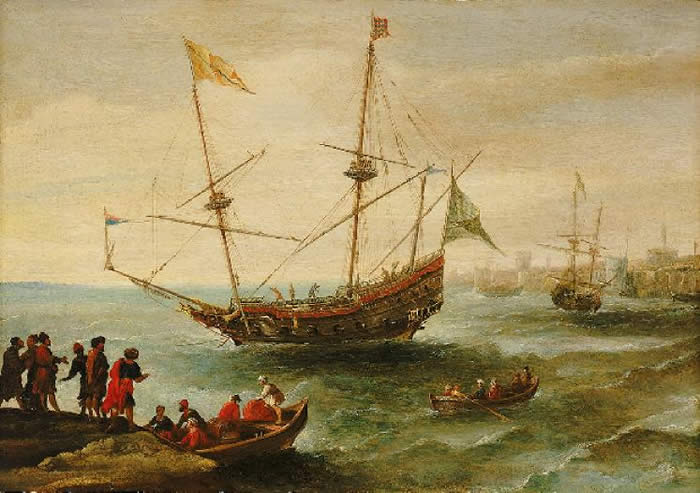 Painting showing Algerian Pirates arriving with their captured "slaves".
Death: Before 3 DEC 1681 London, London, England (7)
Will Proved by Providence Council: 20 FEB 1682 (8)
Article on Pirates of the 17th century affecting travelers to and from England. This includes mention of William Harris.
Map location of St Mary Le Bow Parish Church
1. The Northbourne registers at Canterbury Cathedral, Kent, England. Parish registers (ref U3/74) start 1586 (have poor legibility) Bishops' Transcripts (ref Dcb/ BT1/173) start 1603 (has some gaps) Archdeacons' Transcripts (ref Dca/BT/136) start 1563 (have gaps as follows: 1565/6, 1567/8, 1579/80, 1581/2, 1594/5, 1606/7, 1629/30, 1640/41 to 1660/61 inclusive)
2. Hydes of England: Ancestors of Thomas Olcott of Connecticut, Samuel Hardy of Massachusetts, and Susan Hyde, Wife of William Harris of Rhode Island," by Frederick J. Nicholson, in The Genealogist, Vol. 20 (2006), No. 2, pages 131-83. Also see the following link: http://kinnexions.com/smlawson/olcott.htm
3. No ships record is found for William or his brother Thomas. Many early published accounts made false assumptions, i.e. Staples, Annals of Providence, p. 587 incorrectly assumes "Thomas Alias William Harris" listed on the Ship Lyon from Bristol, Eng. 1 Feb 1631 is this William Harris. Actually this Thomas Harris settled near Boston and ran the first ferry.
4. Savage, Geneal. Dict., ii: 365 but this reference as inhabitant of Salem may not be this same Harris even though it does coincide with meeting Roger Williams before taking the journey to settle Providence..
5. Providence in Colonial Times, pg. 22
6. http://home.comcast.net/~jameslstokes/henry.htm
7. Collection of the Rhode Island Historical Society Vol. X, No. 114 Copy of letter by Warton informing Mrs. Harris of her husband's death three days after his arrival in London.
8. Prov. Rec., vi: 34, 48-58
9: Drapers' Company of London Archives,Boyd's Roll A Register of Apprentices and Freemen, Drapers' Hall, Throgmorton Avenue, London EC2N 2DQ tel 020 7448 1308, The apprenticeship bindings book shows that William, the son of Andrew of Northborne, Kent, wheelwright deceased, was apprenticed to Thomas Wilson for 7 years on 22 October 1628. He did not take up the Freedom of the Company on completing his apprenticeship and no other information relating to him appears in the Company's archive.
http://www.thedrapers.co.uk/index.html
Map Location for Drapers' Hall
Also see:
http://www.aim25.ac.uk/cgi-bin/vcdf/detail?coll_id=7255&inst_id=97&nv1=search&nv2=
10: Ibid. Thomas Wilson's father and grandfather before him had been Freemen. He became a Freeman on 7 March 1609/10.
11. Harris Paper (supra note 158), 66 mentions Andrew's age as 28 in 1663
12. John HYDE - bur. Oct. 21 1617, St Mary Aldermanbury, London. Son of Thoms Hyde. As a citizen and draper of London, John's will was dated Nov.. 26, 1616 and proved Nov. 6, 1617. Married first Feb. 9, 1576/7, St Mary Le Bowe, London to Fortune TYER, and married second May 9, St Mary Bothaw, London to Mary BONFOY (bap. Apr. 18, 1585, St Ann Blackfriars, England, daughter of Sebastion BONFOY and Alice AUDLEY. Mary married second William HUBBERD at St Margaret, Westminster by Jul. 7, 1619 London license.
13. At age 28 Parnell (William's older sister), together with her step brother James Sayer (23) boarded the ship Hercules in the Port of Sandwich a few miles away from Northbourne in the early spring of 1635 for New England. Parnell is listed on the record as from Bow, London clearly showing she had resided there for a period of time prior to returning to Sandwich to board the ship. And may have lived with her younger brother William prior to his marriage to Susannah Hyde and their migration. Also, research shows a direct connection with Reverend John Lathrop and many who boarded the ship Hercules.
Parnell's origin is mistakenly claimed as St. Mary Le Bow, London in Robert Charles Anderson's second series of The Great Migration studies (immigrants in 1634-1635. This is due to the claim on the ship Hercules Passenger List that Parnell is from Bow, London. This however was the location of her last residence and not her origins in Northbourne. St. Mary Le Bow is located very near The Draper's Hall and Eastcheap where William worked.
14. https://en.wikipedia.org/wiki/Roger_Williams
15. https://en.wikipedia.org/wiki/William_Harris_(settler)#CITEREFUllmannHarris2013
16. Providence in Colonial Times, Kimball, Gertrude Selwyn, page 16
17. Providence in Colonial Times, Kimball, Gertrude Selwyn, page 397-398
Map of Wentworth Street near Spittle fields in London
Also see information on Stokes Family History including John Stokes, baker: http://home.comcast.net/~jameslstokes/henry.htm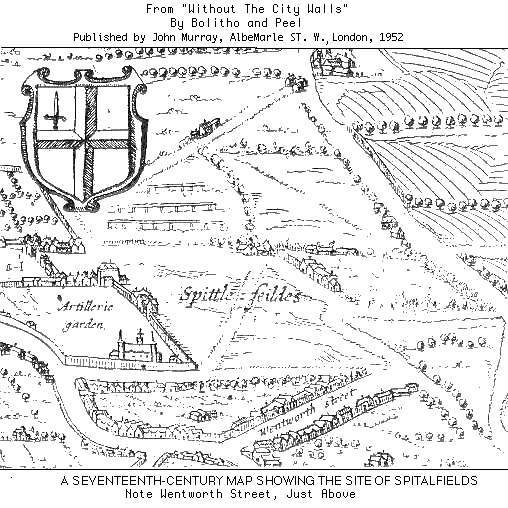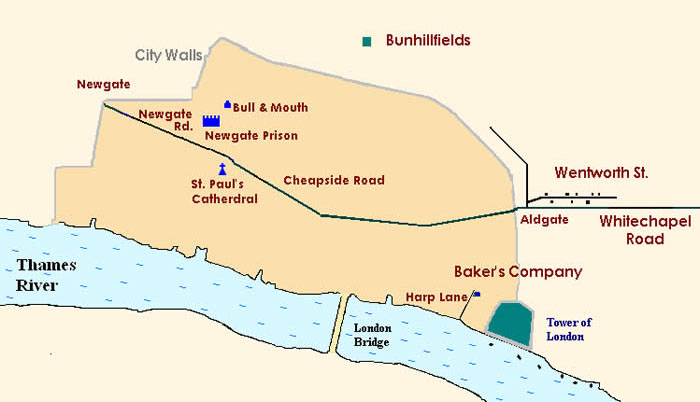 Wentworth street was the home and bakery business for the Stokes family.